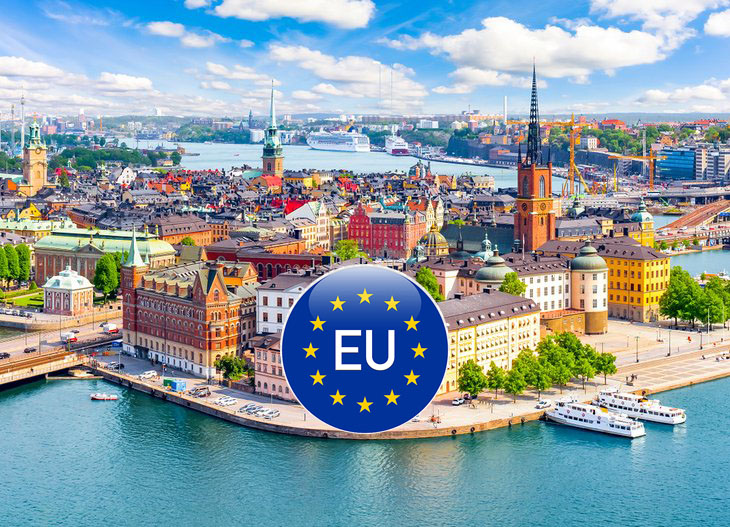 About Europe
Europe is the second-smallest continent, and it could be described as a large peninsula or as a subcontinent. Europe is the western portion of the Eurasian landmass and is located entirely in the Northern Hemisphere. Several larger islands belong to Europe, such as Iceland or the British Isles with the UK and Ireland.
Area
With an area of 10.2 million km² (3,938,000 sq mi), Europe is 20% larger than the contiguous United States. The European Union has an area (without the UK) of over 4.23 million km² (1.6 million sq mi).
How many countries are there in Europe?
Europe is shared by 50 countries. By the conventional definition, there are 44 sovereign states or nations in Europe. Not included are several countries namely Turkey, which occupies only a small part of East Thrace on the European Balkan Peninsula.
Cyprus, an island in the Mediterranean Sea, is geographically part of Asia Minor (Middle East).
The Faroe Islands, an island group between the Norwegian Sea and the North Atlantic Ocean are a self-governing territory of the Kingdom of Denmark.
Greenland, which geographically belongs to North America, is as well an autonomous Danish territory.
Kosovo is a partially recognized state in the Balkans.
A small piece of Western Kazakhstan is also considered to be part of Europe.
Population
An estimated 747 million people live in Europe. The most populous country in Europe is the European part of Russia with a population of 110 million people, followed by Germany with 83 million citizens, and Metropolitan France with 67 million inhabitants (in 2020).
Why study in Europe?
Experience a world-class higher education in Europe and benefit from an extensive choice of bachelor's and master's courses, doctoral study programmes and more.
Explore diverse languages and cultures in a welcoming, social environment.
Gain international experience, skills and knowledge!
About the Study in Europe project
Study in Europe is a European Union (EU) project, which aims to
showcase what higher education in Europe has to offer to students worldwide
provide information about organising and funding study and research periods abroad in Europe
help European higher education organisations connect with potential students and partner organisations
Study in Europe provides information about study opportunities in 33 European countries. These countries fully participate in Erasmus+, the EU's programme supporting students from EU and partner countries across the world to study in Europe.
Quick Fact
Language

English

Currency

Euro

Population

9.75 Million

Time Zone
Institutions

100+

Capital

Europe

Area
Density
GDP Per Capital
HDI
Course Available
Visa Process
Apply for admission

Required Documents: Academic Documents, IELTS(Optional), Valid passport, Biodata and Cover letter

Conditional Offer letter (Admission Letter)

Application Fee Payment

Documentation Process

NOC (Non Objection Certificate)

Tuition fee payment (Cash/Bank Draft)

Travel Medical Insurance (TMI)

Embassy Appointment (Visa Interview)

Decision (Grant or Refuse)

Departure or Withdraw
Admission Requirement
Academic 50% or Equivalent
IELTS Optional for Bachelor and Master Degree
Document Checklist
Visa Refusal Condition
Immigration Rules
Work Right